Warning: Don't plan your reception until you read this letter.



"How to Plan the Greatest and Most Memorable Wedding Reception . . . WITHOUT Breaking the Bank"
"This comprehensive planning guide will save you a fortune AND give you ideas for a unique wedding reception that will be remembered forever!"
Dear Friend,
If you'd like to have a gorgeous and smooth wedding reception, that stays within your budget and is so cool and elegant that your friends will talk about it for years to come, then this might be the most important letter you'll ever read.
Here's why:
This is the only immediately downloadable reception planning guide that gives you all the checklists, tips and tricks that you need to create an awesome wedding reception WITHOUT pulling out all your hair.

Now, I know you're probably skeptical. That's normal and healthy. Let me give you three good reasons I can back up what I claim:
Three Reasons To Believe What I Say
Reason one: We are the largest seller of wedding-related ebooks on the Internet and have helped thousands of brides, grooms, moms, and dads make their receptions run smoothly.
Reason two: We spend hundreds of hours researching each of our wedding books and interviewing wedding experts so that you have the best tips and tricks of the trade at your disposal all presented in a concise and easily usable format.
Reason three: Our company has been in business with the same ownership for 27 years. We are not a fly-by-night Internet operation that disappears when you need help.
Here is a summary of the benefits you receive

Learn how to pick the location of your reception . . .
- You can make it really memorable WITHOUT spending a fortune

Timeline planning . . .
- You'll know just when to do what during the reception

Weather Tips . . .
- You'll beat mother nature at her own game

If you choose to use a wedding consultant, we teach you how to pick one . .
- They can be your greatest asset, or your worst nightmare . . . This ebook will make choosing one easy.

Etitquette tips . . .
- You'll know exactly who stands where and does what.

We give you the best negotiating tactics to keep your costs reasonable . . .
- Some of the tips in this book will save you 35 percent or more on your overall reception bill

All the details you need on flowers, photography, video work, music and food . . .
- Some of these tips can get you gorgeous amenities for FREE

All you need to know about wedding emcees . . .
- Your professional emcee/brother-in-law/uncle will have no trouble following the simple checklist we provide so you won't have to worry about your reception running smoothly

14 point checklist for narrowing down your choice of location . . .
- Leave one of these points out and you could be headed for a surprise disaster

28 Point laser strike checklist to make sure you know EXACTLY what you're getting from the reception hall . . .
- Get the most bang for your buck by knowing just the right questions to ask

10 Point checklist on picking a limo / transportation company . . .
- Travel in style and grace and save money on the ride

27 point checklist on picking a caterer . . .
- You sure don't want people talking about the slop you served at your reception

13 point additional checklist for caterer . . .
- Your caterer won't try to skimp on your event when you show them you know what you want. PLUS knowing these tips will keep you from "choking" on the bill

18 point checklist for the cake . . .
- From the first concept to the last bite this monument to your wedding will be a focal point that needs exacting attention. This E-book makes it easy

8 point bar checklist . . .
- Mistakes with alcohol can be costly and disastrous and you won't make those mistakes if you follow the directions in your ebook

15 point checklist for picking a band or DJ . . .
- The band director will think you're a pro booking agent when you outline specifically what you expect from them

10 point checklist for your Emcee . . .
- You've probably asked a friend or relative to do this important job. This checklist will help them to know exactly what to do to create a fun event that moves along smoothly

16 questions you MUST ask before hiring a videographer, or photographer . . .
- The "forever" parts of weddings center around these two people. You'll learn what kind of person to look for to capture the most important day of your life

7 point checklist for "must have" reception photographs . . .
- Put these right in the contract for the photographer and you'll be sure not to miss these treasures. PLUS you can give the list to your best friends that have cameras for extra insurance that you get the shots

9 types of people you might want to invite to do a speech or toast at the reception . . .
- Wedding preparation is hectic. This list will keep you from forgetting people who want to stand up and give their words of love and wisdom
Now, you're probably wondering how and why we can do all those things.
Let me explain.
The author of this book has hosted hundreds of wedding receptions in his own facility. He has seen what works and what doesn't and he knows all the tricks of the trade to make sure your reception experience is treasured forever.


Imagine the disaster you would have on your hands if you didn't have an organized plan to take care of all the tiny details that make for a smooth wedding reception.

What if the exact time and location for the cake delivery wasn't spelled out in the contract? . . . You'd be there cutting up a bunch of hot apple pies from McDonalds.



What if the play list for your first dance never made it to the bandleader? . . . "From this Moment" by Shania Twain just turned into "Keep your Hands to Yourself" by the Georgia Satellites?



What if the "open bar for one hour" was mistaken for "open bar" ? . . . Your bar bill just went from $1500.00 to $7500.00 because you didn't have it spelled out in the contract.

You'll get More cool ideas and info:



28 completely different kinds of places you can hold your wedding reception.



2 very unique ways to find very unique locations



4 ideas for wild arrivals to the reception



Alcohol. How to save money and how to go "dry" at the reception and tie it to a charity. - - - You'll be benevolent heroes AND save money too.



The dueling punch bowl technique to save tons of money on booze.



2 cool tricks to get flowers wholesale



Where to get free flower petals.



4 gorgeous and lovable alternative to flowers



How to save a bundle on music.



Tons of unique menu ideas



PLUS A sprinkling of wedding history. . . . Do you know how the bouquet toss originated?

We've also included a REALLY, REALLY, REALLY important section about your wedding cake and a resource that will give you tons of tiny details about ordering your cake. -- The cake is the giant centerpiece of your reception and you don't want to mess this part up!

This E-book would even be a great pre-wedding gift for the bride and groom.

Don't take my word for it.
Listen to what our customers say.
I saved a fortune on the Cake and decorations and one tip I got out of the book even got me a free upgrade on the cake. Thanks for making my wedding reception a smash hit.
Jocelyn Ott, Greensboro, NC
"Wedding receptions are about the hardest thing in the world to plan. There are literally hundreds of details and I thought my mother and I were going to kill each other trying to figure out who was supposed to do what. Your "Successful Wedding Receptions" took away just about all the stress 30 minutes after I downloaded it and my mom and I got great pictures at the event so you can see I didn't kill her. Thanks for the wonderful ebook."

-Jeanette, The Bride
Warning: Do NOT buy any E-book on Successful Wedding Receptions
unless it meets the following 3 criteria
I want to give you 3 criteria or elements you absolutely, positively must address when planning a wedding reception and in purchasing a guide to help you.
1: You must absolutely use checklists, or your will absolutely forget a key element of your planning that could be emotionally disastrous and/or very costly financially. - Our E-book gives you 12 checklists covering all the major parts of your reception.
2: You must absolutely know the simple questions to ask to get better deals. Sometimes one word will mean the difference between getting the lowest possible price and getting taken to the cleaners. - Our E-book makes sure you get the best deal.
3: It's your wedding and you can do what you want, but we believe you must "know" the rules before you break them. Our ebook tells you:



The six places at a wedding reception that are appropriate to place flowers.



The 7 "must have" reception photographs including the subjects of the photos and the locations where they are supposed to be shot.



Who is supposed to be in the greeting line at the reception, what order they are supposed to be in, and what exactly they are supposed to do.

Hundreds of other questions like this need answers . . . and well before the day of the wedding! - We make sure you know what to do.



You get at least 10 times your money's worth!
If you researched all the above it would take you 100 to 120 hours (I know, because I did it) Organizing and putting it in a usable format took another 20 (I did that too). You don't need to spend weeks working on this one important aspect of the upcoming wedding in your life. We took all the worry, time and hassle out of looking good and making sure things go smoothly on that very special and very important day.
Successful Wedding Receptions
not only gives you
12 critical checklists, including:
location

transportation

caterer

cake

photographer

videographer

alcohol

emcee

flowers

music

AND, tips and etiquette!
But guides you through the…

WHO?

WHAT?

WHEN?

WHERE?

WHY?

and

HOW?

of a successful wedding reception, such as who stands where and does what in the receiving line and how to make sure no one bites into an artificial flower from the wedding cake..

In summary, here's what you get:
12 important checklists

28 Location tips and ideas

Catering tips

Cake tips

Emcee tips

Music tips

Photography and video tips

Flower tips

Receiving line tips

Transportation tips

Weather tips

Etiquette tips

How to get the best deal on everything tips

PLUS

Interesting history points of wedding receptions to cover you if you have to come up with something to say on the spur of the moment.
If you respond right away, you pay only 29.95 17.00.
Act immediately and receive the following bonuses
Since I know it's 100% to your benefit to act right away, I want to sweeten the pot and give you every possible reason to say YES today! If you respond immediately, you'll also receive the following:
Free bonus 1:
25 resources you need to know about including 11 websites that can answer virtually any question you could ever dream up about your wedding -- this will save you tons of time searching out the info on your own.
Free bonus 2:
You'll get the funniest groom gag you ever saw. – and it's so clean and mild even the preacher will be laughing.
You can't lose with our 100%,
ironclad, moneyback guarantee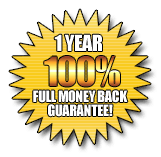 By the way, these bonuses are yours to keep even in the unlikely event you decide to take advantage of our ironclad moneyback guarantee:
Your satisfaction is guaranteed with our 100%, no-questions-asked, iron-clad money-back guarantee. If you aren't absolutely thrilled with the great ideas and money saving tips in our product, just contact us up to 1 year after the wedding and we'll refund 100% of your purchase price. No questions asked. . . . AND we'll even let you keep the book.


You don't have to decide now if this Wedding Reception planner is for you. Just get it and try it out. If it doesn't do everything I say and more, if you don't save money on your photography, video, cake, catering, or if you don't get tons of great and creative ideas, or if you just plain don't absolutely love it, simply let me know and I'll give you every cent of your money back! So you have nothing to lose and everything to gain." With our totally outrageous guarantee you get up to a year after the wedding to get your money back. If you are doing your planning 3 months in advance, that makes a total of 15 months and if you're planning more than three months in advance you get an even more outrageous deal. We're taking all the risk to help you have a lovely wedding reception.
Here's how to order right now!
To order Successful Wedding Receptions just click the button below


I'm dedicated to your wedding success,
Tom Antion
P.S. I know your wedding is important to you and stressful to plan, that's why I'm taking all the risk. I want to make things easy on you.
P.P.S. The Successful Wedding Reception E-book will be your guide to an unforgettable and smooth running reception that will be one of the most cherished days of your life.
P.P.P.S. Let's get moving right away. Order by midnight tonight and save $12.95
P.P.P.P.S This is an immediately downloadable E-book in Adobe PDF format. You probably have the free Adobe Acrobat Reader on your computer. If you don't, we'll be sending you an email after you order to show you where to get it.
© 2004 Anchor Publishing, Box 9558, Virginia Beach, VA 23450 - All Rights Reserved
In the USA call 800-448-6280, Outside the Continental USA 757-431-1366